Devin is first seen with the rest of her class watching a documentary on the female reproductive system at the very beginning of the episode. However, she is only seen with the class and doesn't speak.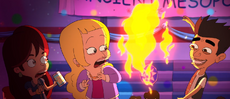 Devin makes her first speaking scene during the school dance where she is shown showing
Lola
a picture of a cat on her phone. They are then interrupted and bothered by
Jay
who approaches the two asking them if they're having fun. He tells them that he thinks the night is gonna be 'hot' (as he performs a fire trick for two). However, Devin and Lola don't appreciate his trick and storm off after Lola calls him a 'psycho.'
It's Field Trip day at Bridgeton Middle School and the 7th-grade class is going to the Statue of Liberty. Matthew is talking about how much he loves seeing Devin and DeVon as a couple. When Nick appears, Matthew, Devin, and DeVon get really curious as to what his current relationship status with Jessi is. Once Jessi actually arrives at school, Devin compliments her on her white shorts. After Nick and Jessi have an awkward moment in front of the class, DeVon asks them if they are officially a couple or not which they both say they are.
When the class begins to enter the bus, Nick and Jessi decide to sit in the back of the bus with Devin and DeVon since they're officially a couple now. Devin and DeVon then begin to make out.
Once the class gets to the Statue of Liberty, Devin suggests that she and Jessi go to the top of the statue together, while Nick and DeVon do the same so they can "talk about each other." While Devin and Jessi are talking, Lola, suddenly interrupts the two and asks if she and Devin could talk without Jessi.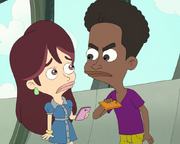 While at the top of the statue, Devin and DeVon are taking their couple's pics when Nick asks the couple where Jessi is. Later on, the couple gets into a small argument about their picture Devin posted on her social media. DeVon explains that he doesn't like how Devin captioned their photo, "The Devins."
Afterwards, DeVon later apologizes to Devin and says that she can tag the photo however she likes. She thanks him and says that she already did and the two share a kiss.