Jessica Glaser, known by her nickname Jessi, is one of the main characters in the adult-animated sitcom, Big Mouth. Sarcastic and fairly mature for her age, Jessi serves as the show's "main girl" as she too tries to navigate her way through puberty with the help of the Hormone Monstress. She is portrayed by the comedic writer, Jessi Klein.
Character
Background
Jessi comes from a dysfunctional Jewish family with her mother Shannon Glaser and father Greg Glaser. Her parents are often fighting or bickering and haven't gotten along in a very long time. Her father is often busy smoking marijuana and avoiding responsibilities, while her mother is always yelling and cheating on her husband. She often talks to the Hormone Monstress for advice on her home life.
Physical Apperance
Jessi's primary outfit consists of a lilac-colored shirt, crimson leggings, and gray slip-on shoes. She has pale skin, light brown eyes, a pointed nose (similar to Jay's), and medium-length red hair that's tied in a ponytail with a lilac-colored hair tie.
Personality
Jessi is portrayed as the likable-smart girl. She demonstrates to be fairly mature for her age, smart, sarcastic and feminist. She is shown to commonly get along with many of the show's characters such as Nick, Andrew, Missy, Devin, and Matthew.
Perhaps her most defining trait is her sarcastic and bold attitude. Jessi is certainly no stranger when it comes to standing her ground and defending herself. She's never afraid to express how she truly feels and is not afraid to hurt anyone's feelings if needed. For example, during "I Survived Jessi's Bat Mitzvah", she was able to confront both her parents for their constant fighting, even calling her mother by her real name and telling her father to "shut up."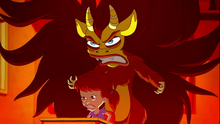 Jessi does have a tendency to be easily irritated and not control her anger. When
Nick
told the school that he was the one who broke up with Jessi in "
Am I Gay?
", she and the
Hormone Monstress
are blinded by rage and show no hesitation to exposing Nick to the school. Her temper does sometimes result in aggressive actions and appear to make her much stronger. In "
Girls Are Horny Too
",
Jay
, being very straight-forward, tells Jessi that he was going to touch her breasts. This odd remark makes her angry once again, but this time, she grabs Jay by his neck and chokes him to the point where his feet aren't touching the ground.
History
Trivia
Community content is available under
CC-BY-SA
unless otherwise noted.