Nicholas Birch, known simply as Nick and sometimes Nicky, is one of the main protagonist of the Netflix adult animated show, Big Mouth. Nick Birch is the young prepubescent best friend of Andrew Glouberman and together, the two get caught up in many crazy puberty-inspired adventures. Nick is the youngest of his friends and unlike them, he has yet to start puberty. He is voiced by the series' co-creator, Nick Kroll.
Series Overview
Nick Birch, alongside Andrew Glouberman, serves as the main protagonist on Big Mouth. The episodes that primarily focused on Nick include "Ejaculation", "Everybody Bleeds", "Sleepover: A Harrowing Ordeal of Emotional Brutality", "Pillow Talk", "The Head Push", and "I Survived Jessi's Bat Mitzvah".
In "
Ejaculation
", Nick starts to become obsessed with the lack of changes occurring in his body after he accidentally gets a glimpse of
Andrew's
penis. Nick begins to feel insecure about his body as he believes that Andrew's penis is superior to his.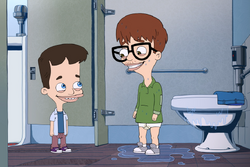 Searching for advice, Nick reaches out to Duke Ellington about his problems as to what he should do. He is reassured and told that in order to not feel inferior to Andrew, he needs to ask out a girl to the school dance on Friday. Nick then gets the idea to ask out an eighth grader named Olivia to the dance. To his friends' surprise, Olivia accepts his offer to the school dance. This angers Andrew as he thought that he, Nick, Jessi, and Jay were going to the dance as a group. This causes the two to argue and decide to go separately.
At the dance, Nick and Andrew ignore each other and avoid all sorts of interaction with one another. Eventually, Nick meets up with his date Olivia who completely disregards that they were supposed to go to the dance together. This causes Nick to cry and Andrew to actually feel bad for his friend. Embarrassed and upset, Nick sits in the hallway alone, until Jessi approaches him. After a brief talk about Olivia, the two of them kiss. After seeing Andrew rush to the bathroom, Nick follows him and the two resolve their problems about everything.
Character
Background
Nicholas Birch lives in suburban New York with his father Elliot, mother Diane, older brother Judd, and older sister Leah. According to series co-creator and voice of the character himself Nick Kroll, Nick Birch is based entirely on himself in his youth.
Physical Apperance
Nick is the youngest of his friends and appears to have a more youthful and vibrant look to him. He has a sizeable forehead that makes up a good portion of his body, shortcut dusk-brown hair, large blue eyes, small dashed eyebrows, and a simple round nose. Nick is the shortest of his friendsArguably, his most defining feature is his "big mouth" (hence the show's title). Similar to Missy, his teeth are shown even when his mouth is closed.
Nick's everyday look consists of a dark teal t-shirt with a white button down, brown jeans, and purple sneakers.
Personality
Apperances
Trivia